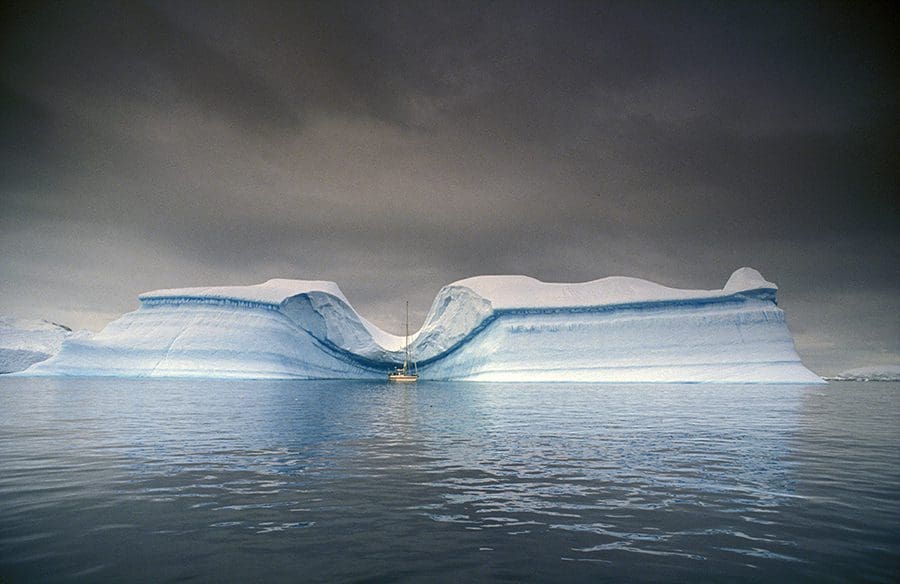 We are living in a weird situation, staying at home behind our fences to protect ourselves from an invisible enemy. And what's the thing we miss the most? Breathe, walk, run, explore, travel and… be on the sea of course!
Never as today before we would love to be on a boat and let it sail over the seas, reaching wonderful places, maybe far from our comfort zone. That's why in this episode of my blog I decided to show you this picture taken by the British photographer Rick Tomlinson. In this period of physical inactivity, I spend a lot of time dreaming experiences that I absolutely want to do once in my life.
I was scrolling the Facebook homepage when this beautiful picture captured my attention. Fortunately Rick Tomlinson is getting out all his archive so some analogical pearls like this one can be shared. This is an expedition that all the sailing photographers with an adventurous soul want to tell by images. Daily light, cold colors, sinuous and uncommon shapes of landscape… and silence!
Could you image it? The picture portrays Skip Novak's first 'Pelagic' yacht photographed by a large iceberg in Fournier Bay, Antarctica, and it was taken on Fuji Provia 100 ISO slide film in 1992 with a Nikon F4 and 20mm lens with a graduated grey filter.
"We had noticed this beautiful iceberg with a sine wave like profile and set about trying to capture its size and shape using Pelagic to show its scale. I was dropped off in a small inflatable dinghy while Skip took Pelagic in closer to the berg. The lines on the ice draw your eye to the boat. These lines are actually previous water lines and the iceberg has rotated as it melts and erodes. You don't want to hang around to close to a berg like this as they can be very unstable and can brake or rotate at any time", Rick Tomlinson said.
Keep on dreaming! Stay safe, stay at home and travel with the imagination! We will have time later to do what we want!
Rick Tomlinson Biography
At the Legends event in 2011 Volvo presented Rick Tomlinson with the Pioneer of Onboard Media award, but Rick Tomlinson started his career as a boat builder and sailor racing the Whitbread onboard Drum, The Card, Intrum Justitia and Team EF.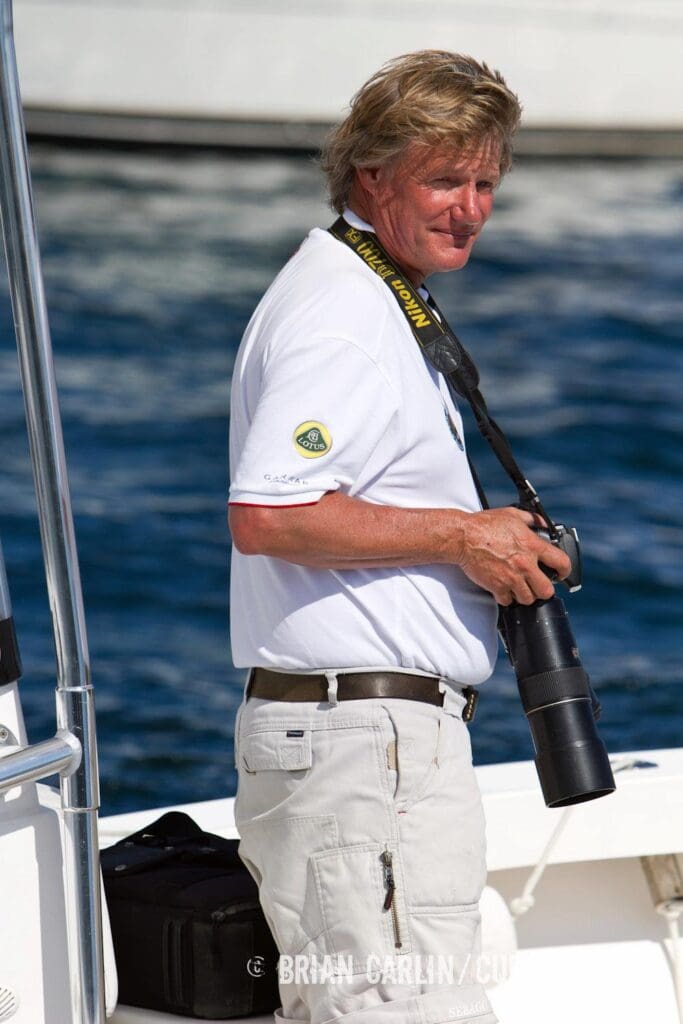 His first pictures from Drum where published in Yachting World and Seahorse,(circulation 50,000) his final race on Team EF was an assignment for National Geographic (circulation 10 million). Rick has twice been the Official Photographer for the Volvo Ocean Race and twice worked as a Team Photographer the most recent with Team SCA.
Rick Tomlinson is part of the elite group of specialist yachting photographers covering the worlds major sailing events, from the Olympics to the Americas Cup, and undertaking assignments for magazines and the top boat yards.
Click to discover Rick Tomlinson official website.