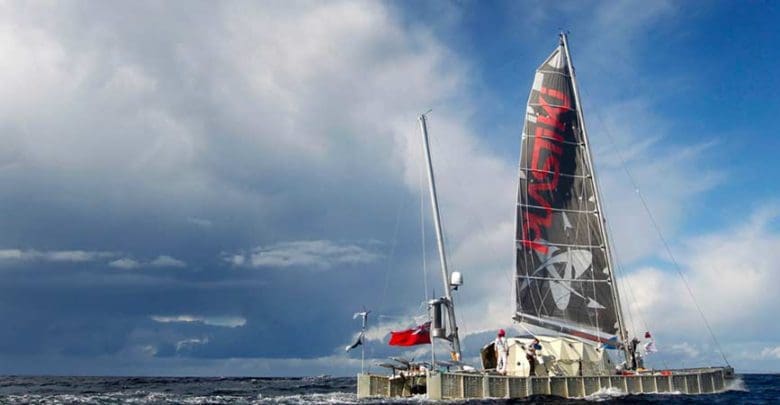 In 2006, a group of young adventure-seekers headed by David de Rothschild came up with a crazy idea: to create a completely recyclable boat that would be capable of crossing the ocean. The result was Plastiki: a catamaran measuring 18.28 metres in length and 6.30 metres in width, with hulls made of an incredible 12,500 recyclable plastic bottles.
The boat's name is a play on the 1947 Kon-Tiki raft used to sail across the Pacific by Norwegian explorer Thor Heyerdahl, and its voyage roughly followed the same route.
On March 20, 2010, the sailing vessel set off from San Francisco, California to cross the Pacific Ocean with a crew of six: British skipper Jo Royle, co-skipper David Thompson, expedition diver Olav Heyerdahl, filmmakers Max Jourdan and Vern Moen, and expedition leader David de Rothschild. The expedition projected landfall in Sydney, Australia and included plans to visit several sites en route of ecological importance or which were susceptible to environmental issues caused by global warming, for instance the current sea level rise, ocean acidification and marine pollution.
Plastiki arrived in Sydney Harbour on July 26, 2010, accompanied by a small flotilla of boats. Shortly afterwards, it was towed to the Australian National Maritime Museum in Darling Harbour, where it was on display until late August.
This 8000-nautical mile journey across the Pacific Ocean from San Francisco to Sydney is a revolutionary expedition of ecological importance with a mission and dream of giving our oceans a voice. Plastic pollution has been plaguing our planet, from the peaks of mountains to the depths of the ocean. Throw-away single-use plastics are the culprit, with over 74 million pounds of plastic bottles floating in our oceans.
But how, you ask, did they build it?
The Plastiki team found the solution to the technological challenge in 2008 by using srPET, a material similar to fibreglass but made entirely of recyclable plastic. The bottles were filled with dry ice and then sealed and heated, to turn the dry ice into carbon dioxide gas and pressurise the bottles, making them rigid.