French skipper Armel Le Cléac'h today reclaimed the Vendée Globe pole position from Alex Thomson – only for the British skipper to instantly steal it back. At the 0800 UTC position update Le Cléac'h moved into first place for the first time since losing the lead to Thomson two weeks ago.
The change in frontrunner came almost three weeks into the solo round the world race as the top two skippers tried to navigate through a tricky patch of light winds on their way to the Southern Ocean's big breeze.
With Thomson gybing north Le Cléac'h chose to continue east, and when the rankings came through the French sailor's Banque Populaire VIII was eight nautical miles ahead.
However, three hours later it was all changed again, this time Le Cléac'h opting to head north while Thomson went east.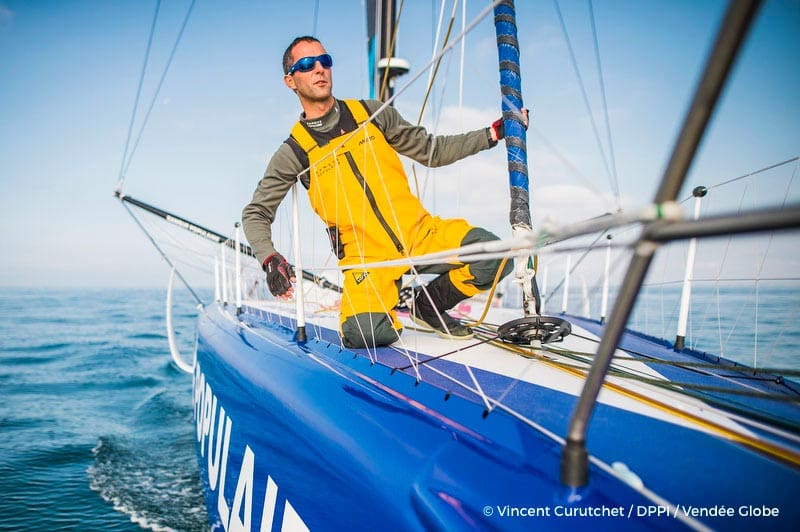 By 1100 UTC Thomson was back in the driving seat with a 16nm buffer – a spot he has commanded for all but today's three-hour blip since November 12 – but both he and Le Cléac'h were only making 12 knots of speed in similar wind.
Le Cléac'h said the most important thing was not his ranking but that he had caught Thomson up. "It's not easy trying to make headway as we're in a light patch between two lows," he said. "We're trying to pick our way through in the shifty conditions, but it feels good to have caught up with Alex. I've repositioned myself to the north now because things were stalling and my main focus is staying in some breeze."
Three hundred miles adrift of the leading pair, third placed Sebastien Josse was today struggling in light winds but speeds will pick up when his Edmond de Rothschild is scooped up by the depression currently being ridden by Paul Meilhat in fourth and Jeremie Beyou in fifth.
"We have a light wind with more high pressure than the others, but it's set to pick up in 24 hours and then we can sail quite fast and straight to Australia," Josse said. "Three weeks in and my boat's in great shape as we haven't had much bad weather since the start so we've been quick, as shown my Alex's records. It's amazing how fast the boats are but we haven't had the real Vendée Globe yet."
Nearly 2,000nm behind the leaders the tussle between Jean-Pierre Dick, Thomas Ruyant and Jean Le Cam entered a new phase, the latter losing out after the weather front the trio was hooked onto passed over his yacht Finistère Mer Vent.
The 57-year-old, competing in his fourth Vendée Globe, revealed that he lost further miles when he slept through his alarm.
"Last night I was constantly making sail changes, the wind going from 35 to 15 knots in the blink of an eye," he said. "I finally settled with two reefs in the main and a storm sail up, watched it for a while longer and then got some shut-eye. Unfortunately, I then slept through my alarm and woke up five hours later in very calm conditions, still under two reefs and storm sail… the whole works!"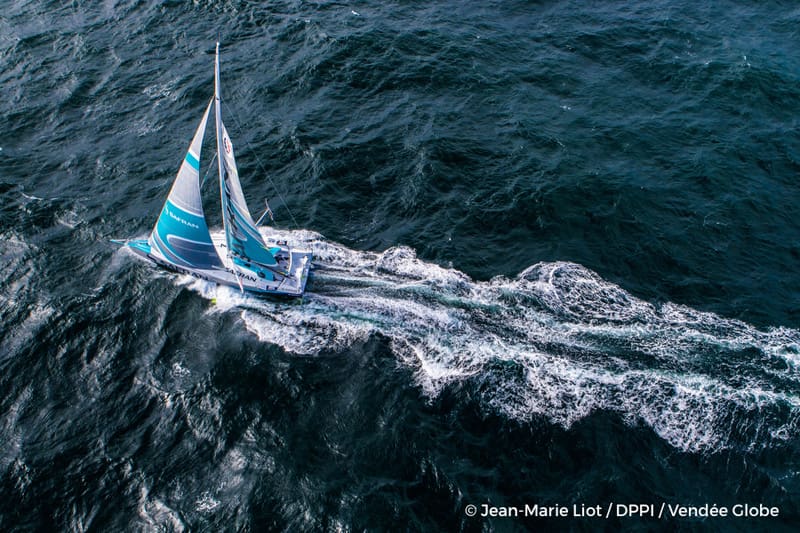 While Le Cam must now dive south in search of better breeze, Ruyant and Dick are set to extend their lead as they profit from the leading edge of the low pressure.
Further misery awaits the biggest group of boats from Louis Burton's Bureau Vallée in 11th to Enda O'Coineen's Kilcullen Voyager – Team Ireland in 23rd as another high moves into their path.
The only sailor in that back pack still smiling is Alan Roura from Switzerland – the La Fabrique skipper could soon find himself jumping up the leaderboard if he is able to skirt the bottom of the high pressure.
Morgan Lagravière, forced out of racing two days ago with rudder damage, arrived safely in Cape Town at 0830 UTC on Safran. Vincent Riou, also heading to the South African port, was due to make land late this evening.
Meanwhile the international jury decided to hand Jeremie Beyou a two-hour penalty for accidentally breaking the seal on his engine when he fell on it.